As a husband and a father, being sick is a heavy burden not to them but to me.
I consider myself to be a young man since I am still in my mid-30s. I was born and raised in a simple, yet, happy and contented family in Tanauan, Bulacan. My parents, Bernie and Ellen, raised us with encompassing love and care, they were always there in every way through thick and thin to support me in all that I do. Their love was all that mattered to me to strive and thrive for my future and that of my family.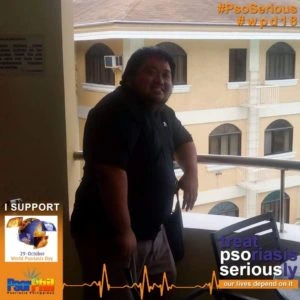 I took up a Bachelor of Science in Physics back in college and aimed to finish my degree so I could get a job and help my family financially. However, when I was in my supposedly graduating year, I went to Quezon City for my on-the-job training, but I was offered not just the OJT but a good-paying job. I was lured with the opportunity and eventually decided to discontinue my studies. Being the eldest son, I felt the pressure to take care of my siblings so I was immediately tempted to grab the job. I left school because I want to work and earn not for me but more so for the people I love.
The first job opportunity for me was to be an admin assistant in a bus company. I didn't stay long in the job because I later worked on as a warehouse storekeeper in Hexagon Tower in Pasig. The idea of working and earning is empowering because I get to help my family in little ways that I can.
Time went by fast and later did I know I was already turning 24 years old and unexpectedly, I found myself in a plane going to Dubai, UAE to work as a logistics assistant.
I worked as hard as I can to earn and save. I tried to learn every day to be better at what I do. And due to my resourcefulness and eagerness to learn, I was promoted as a Machine Handling Operator in less than a year. No less than my boss noticed my knowledge and skills and most importantly my initiative in computer operations. So again, I was promoted as an Admin Assistant and Replenishment-in-Charge on my second year at work. In my third year, in the same job, I was promoted as a Warehouse Team Leader. Seventy (70) people from different countries were under my supervision.
For almost a year and a half, I worked straight night shifts. I knew it was extremely detrimental to my health but my work was everything to me. I didn't know that those months took a toll on my body. The low temperature in the Freezer Chamber caused the burst of the small veins in my eyes. It is the reason why I already wear eyeglasses.
But that incident did not stop or slow me down. I was even promoted as a Freight Forwarding Coordinator-Air Import in Dubai Airport in my fifth year. There, I gained various kinds of experiences like handling different cargos, customer complaints, and deliveries. It was a wonderful experience to work in Dubai because I met different people, learned different cultures and helped my family financially.
In April 2013, in the midst of my busy career, I married my wife, Jocelyn. She was my coworker during my OJT days and she's a few years older than me.
In September that same year, I went home to Bulacan to be with my new-formed family. I applied and was hired as a logistics assistant in a marshmallow factory. Since it was my first job after I arrived from Dubai, I wanted to prove myself to my company so I accepted the challenge of handling shipments, specifically accepting orders and scheduling deliveries, for Visayas and Mindanao. It was a heavy assignment but I managed to exceed their expectations but the downside of it all was the decline of my health. In January 2014, less than a year since I got that job, I was diagnosed with an untreatable life-long disease, Psoriasis. It is a chronic disease that will be with me as long as I live.
The timing was bad, I should say, because my career as a logistics assistant was at its peak. My boss who was the logistics-in-charge resigned, immediately I took his place. I became the head of the position and accepted all the challenges that came my way head on. I was doing well and the company was earning a lot. In 2016, due to diligence, hard work, and patience we reached our breaking point sale of 1 Billion pesos. My boss was happy, I was happy and everyone was more than excited with the success we achieved. However, that happiness and excitement as not long-lived because a few months later, I experienced my worst psoriasis attack.
My psoriasis became uncontrollable during the early months of 2017. I bled profusely and ended up taking steroids just to control the bleeding, itch and pain. At dawn, I would experience leg cramps and other joint pains to the point that I could not even work properly at the office. My doctor advised that the best way for me to control and manage my psoriasis, is to resign from my physically demanding work and change careers, a career that is would be convenient with my given condition. So I finally resigned in June 2017.
Then on, I sought regular check ups with my doctors and submitted to the treatments that I had to undergo. The prescribed medication, Biologics, was extremely expensive. Each vial would cause 175,000 Php, and I needed to complete three (3) vials for my intensive medications. With the help of PCSO, I was able to avail the three vials.
But the challenges did not end there because another health concern surfaced because a month after my last injection, I was diagnosed with heart enlargement due to water retention. I was told that I could not lift heavy objects or take long walks.
For two years, with the help and support of my wife and family, I survived everything however, my self-confidence and self-esteem were at the lowest point because I didn't like the idea that I would be dependent to them for the rest of my life. So I took my chances and tried to search for jobs online. Thru Facebook, I saw Virtualahan's ad. I clicked and checked the page and the site. What caught me most was their tagline, "where no one is left behind". I knew then that that was what I need. I know that I am at the right place.
Virtualahan helped me align myself and be back on track.
BRYAN BARRACA
Team 27