"True life may not be like fairytales, but we could always strive to find the happiness in our ever afters."
Every young lady dreams of having a wonderful family and a happy life. We all have that image since we were young. We would always hear in every great Disney movie its famous finale line, "And they live happily ever after". Unknowingly, our thoughts have settled in these ideals of make-believe and fairy tales and eventually patterned our lives to what we see. But in reality. Not every life is a fairy tale we all have imagined.
I have always lived a carefree life. I was contented with what we had and never noticed the things we lacked. I was free to be myself and was confident with who I was. But some things happened.
Two months after I passed the Pharmacist Licensure Board exam, I thought I would finally have the independent life I have always wanted. But fate had its own way because seven months later, I got married. I was young and naïve but my decision was firm and I wasn't regretful because for me I have the idea that, "the earlier, the better". I was happy. We were happy.
At 25, I gave birth to our youngest daughter who completed our family. But apart from that beautiful news, another news shocked us and ruined the image of our 'happy' life.
I was told that I have an End Stage Renal Disease (ESRD). We were in need of money because I needed to undergo emergency dialysis. I felt hopeless. The procedure was excruciating, tiring and money-draining. One time, tubes were connected to my heart because they had to operate on my veins. It was unsuccessful so I suffered the consequences. I looked awfully different. My skin became grayish and my body got thinner. I couldn't even look at myself at the mirror. But what's even worse is the fact that I could not even take care of my daughter who was just barely a year old. But I was helpless with my situation.
The treatment continued. I would have my dialysis sessions twice in a week. It was inconvenient both financially and physically. So my doctor suggested another solution that would at least minimize the lifetime agony of dialysis treatments— a kidney transplant. My doctor immediately enlisted me but we were still unsure due to the fact that the procedure would cost us a fortune and we didn't even have that fortune. We took a leap of faith and gathered all the financial support from our family, friends and relatives. My mom sold her lands, my in-laws even provided financial aid. We were able to gather what we needed for the operation.
After a few months, I received a phone call. The hospital called and said that they have found the perfect organ match for me. I was ecstatic. All of us were. Everything came into place because we finally had the money needed and the perfect organ donor.
We immediately went to the hospital.
Eventually, I had my operation and it was successful!
I couldn't be more grateful and blessed because everything went well. My body was strong enough to endure the procedure and my body did not reject the organ. But things are not the same like before. Changes should take place. Actually, after the operation, the expenses didn't end because I still needed a number of medicines to maintain the normal function of my new kidney.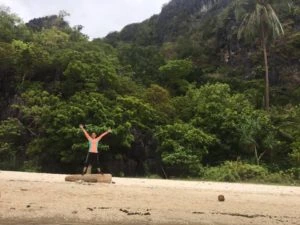 I also had to be careful with my surroundings to avoid diseases or even a simple flu, since being immunocompromised, I am prone to anything. Yes, I was stable for the next eight (8) years.
In 2018, I contracted osteomyelitis and I underwent bone surgery, twice. I was advised to stay still and not to walk on my right foot for the next six (6) months. I was devastated. I was back with my agonies brought by my conditions. During this time, the online world was my escape to avoid depression because I was jobless and I couldn't walk. I would frequently cry because of my situation.
While I was browsing through social media, I discovered that a lot of people are doing home-based jobs. I was curious and tried to get into the trend. I subscribed to different groups and watched online videos, but still it was difficult for me to understand the process. It seemed that it was a whole new world to me.
Then one day, someone posted on one of my FB groups the link to Virtualahan's site. The training was what I needed to help understand the complexity of digital work. I got curious and so I took action and registered.
Hope began to flourish, root after root. I know it is something that would help me for the better.
I was accepted and started the training for the 27th batch. They have accepted me, and I have to do my part.
Now, I am a proud graduate of Virtualahan. I am proud to be a part of their family. I am thankful for the support from all my mentors and friends because they helped me with this second chance I have.
I still have a long way to go. I still have job applications to submit. But I know I'm almost there. I just need hope, determination and hard work to get where I'm going. After all, this is the reality all of us are in whether we have disabilities, sicknesses or whether we are perfectly healthy. We have to fight through life and never stop at any circumstance.
True life may not be like fairytales, but we could always strive to find the happiness in our ever afters.
We should not give up. We must put our trust in Him.
MARY GRACE TACDERAS
Team 27