We honor all fathers and everyone who has been paternal figures in our society. Their presence, most of all their love, has greatly affected and changed many lives especially their children's lives. Their roles in the family are indispensable and irreplaceable. They are the piece that completes the puzzle.
We asked our very own Virtualahan fathers to answer a few questions to give us a preview of what fatherhood is like.
Coach Josh Gersava is the Vice President for Training and Employment. He has been a father for the past 3 years and 4 months to little Kaeden.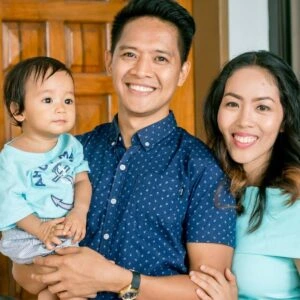 What are your challenges as a father?
Since I consider myself a new dad, taming my toddler son is the biggest challenge so far. It's tiring, and frustrating at times because there are instances that I'd lose my patience. Kids have minds of their own and they love to experiment and discover things here and there. Keeping an eye on him 24/7 is challenging. But I'd also say that it's one of the most wonderful and most fun experiences ever because I get to know him even more and learn to be a better father every day.
What is the best thing about being a father?
There are so many things to enumerate but let's just say I feel a certain kind of love that I have never felt with anyone or with anything. My son and I have this bond that I don't experience or feel with other people, even with my wife.
What chores do you love doing at home?
I have to admit that I'm a hands-on dad. I do almost everything at home from diaper changing, washing of clothes, cooking meals, cleaning the house, and a lot more. I love every opportunity that I get to serve my wife and my son.
How do you balance your time for work and your children?
The nature of my work does not require my absence from my child because my work is home-based. I guess that's one of the many advantages of working within the confines of your home. I get to see my son's milestones and even his simple activities. Seeing him play gives me that additional motivation to do my best in my work.
What is your message to future fathers out there?
Be a father to your children, not just a provider because there's a great difference between the two. Spend time with them, talk with them, play with them, pray with them and grow with them. They need that more than any material things we could give.
Describe fatherhood in 3 words.
God's perfect gift.
Coach Chris del Monte is the in-house psychologist of Virtualahan and he is the community's Well-being coach. He has been a father for 11 years to his 3 kids –Yohbel, Yeoenne, and Yeshua.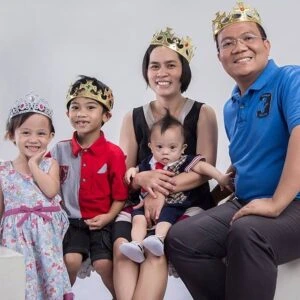 What are your top 3 challenges as a father?
Balancing both careers— fatherhood and work.
Managing expectations at work and at home.
Managing logistics for me and my family, especially my kids.
What do you love most about being a father?
Knowing that what I am doing in my life is affecting the lives of my children. It's like I'm part of their values and dreams, and that I play an important part in their lives now.
What chores do you love doing at home?
I love cooking and gardening the most.
What chores do you hate doing at home?
Washing clothes.
As a father, what is your greatest fear?
Like all fathers, or anyone at that, I always fear the loss of a family member.
What is your message to future fathers?
Always make sure that your children know how much you love them. Let them feel that you love them no matter what. But make sure not to confuse this with permissiveness. Unconditional love encourages the right behavior. Kids who are secured with their father's love tend to act out less, not more. Love your wife without reservations— you can't do much more for your kids than that.
What is your message to your children?
Children, obey your parents because you belong to the Lord, for this is the right thing to do.— Ephesians 6:1
Describe fatherhood in three words.
Love, Discipline, Presence.