"You don't understand now what I am doing, but someday you will."
John 13:7
It was in 1999 when my mother was diagnosed with Multiple Sclerosis (MS)— a potentially disabling disease of the brain and spinal cord. In MS, the immune system attacks the protective sheath (myelin) that covers nerve fibers and causes communication problems between the brain and the rest of the body.
As a Christian family, life was just so full of love and faith, but one day our trust and hope in God was tested in a way we couldn't imagine bearable. We were living a simple life in Bataan when my mom collapsed. She experienced muscle numbness but clueless with what exactly was going on. Little did we know that it was already the start of the full manifestation of her illness. I was only 15 then. My youngest sister was eight and our eldest was 16.
Before my mom got her disease, she was the most hard-working of all. She would do every sort of job just to provide for the family and help my father support us financially. My father is a tricycle driver and a great provider even with the little he got from his simple job. My mom would clean houses, wash and iron clothes, sell food and goodies, and just anything she could find to sell. She would do anything you can think of a mother would do just to earn a living. But all of a sudden, her disease made her stop. In a blink of an eye, her whole body was paralyzed.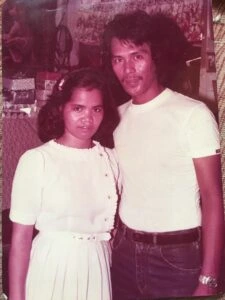 With the little that we had, we went to a neurologist to figure out what caused her sudden paralysis. She was given all the medications she needed, but the doctor told us that there was no cure for multiple sclerosis. The only thing that was possible to do was to treat the symptoms with medicines and other treatments, and we did what was asked. We availed the medicines and treatments. It wasn't easy because we never had much. We were challenged not just with my mom's physical illness, but also on how we could sustain her with all the medicines prescribed for her to survive. We were troubled for a while but eventually became at peace because we had witnessed how the Lord had provided for every single medicine and treatment she took. The Lord used our relatives, friends and churchmates who sent financial, emotional and spiritual support. In the darkest moment of our lives, we saw His bright light. His wings of hope hovered and covered us from the pain, doubts and fears that followed.
Our lives were never the same again.
My mom was not getting better. My dad took good care of her while we were at school. And in days when my dad had to drive the tricycle and earn a living, he would request a relative or a friend to care for mom so he could put food on the table. My dad was the strongest person I know. He was there for my mom and for us. Seeing my parents through that hardship made me witness the reality of their wedding vow, "For better, for worse, for richer, for poorer, in sickness and in health". The situation was sad but seeing them keep their promises made everything beautiful.
The hospital bed became my mom's second home. She frequently felt the symptoms; she experienced shortness of breath and severe pain all over her body. This went on for over a year until her last confinement before she dozed off in coma. My father never left her side, he was with her. He stood all roles— companion, caregiver, and support.
On the fourth day of her coma stage, I could vividly remember the events that transpired. It was in the morning of November 21, 2000. I took the shift in taking care of my mom so my dad could at least rest and have a good sleep. I talked to her while my dad was prepping up to leave. Then I read her bible verses. Her eyes were closed but I knew she could her me.
But, suddenly…. she was having shortness of breath. I rushed to the nurses' station then ran to my father who was just about to leave the hospital building. My father didn't even have the chance to go home that morning. My mom breathed her last.
Life was never the same again without her. All sorts of struggles happened after mom left us to be with the Lord. But God sustains us. Through God's provisions and my father's perseverance, a beautiful chapter unfolded as the bitter one closed—I received my college diploma in 2005.
Losing my mom was never easy, but God has been very true to his promise in Zechariah 9:12 "Return to your stronghold, O prisoners of hope; today I declare that I will restore to you double."
ABEGAIL DINOY
Team 38