Sometimes you'd get the sweetest piece or the bitterest of them all.
You may never know what life has to offer. Some things happen as planned, in most cases, they come in surprises. Like getting a box of chocolates, you never know what you're going to get until you dive in and take that bite. Sometimes you'd get the sweetest piece or the bitterest of them all.
Well, in the past few years, I have had the bitter ones. I was without a choice but to chew and taste them anyway.

I'm Bhevs, short for Beverlyn. I was born in Caloocan but had been raised in different parts of Metro Manila.
We are a family of six, and I am the eldest among four children. My siblings and I were raised by my mother who singlehandedly managed the four of us because my dad was an OFW. Though he was not physically with us, he still generously and consistently provided for the family.
I had a regular childhood in the concrete jungles of Manila. We were raised in the best way they could and taught us to be independent and dependable, which eventually helped me mature emotionally and mentally at a young age.
While I was in my freshman year in college, I met my husband, Lamberto, who posed to be Alen then when we first met. He was introduced by my college friend who technically gave my mobile number to him. We started as constant textmates then became friends. We communicated through texts until we finally decided to see each other personally. Our relationship blossomed and as fate would have it, we became sweethearts. My heart was full and I knew I had a much better reason to thrive and finish my studies.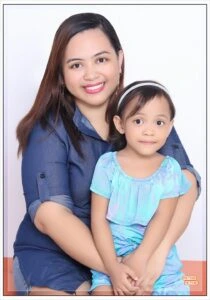 In 2008, my family struggled financially because my dad got sick. I had to temporarily stop schooling. We were in deep financial burden so I decided to stop and apply for a job that school year. I was immediately hired as a cashier at Toy Kingdom Megamall and worked there for five months. When my contract ended, I went back to school and finished my degree in Hotel and Restaurant Management. I was really glad because I have finally accomplished an important chapter of my life. I was ready to face the world. I had my diploma to arm me in getting my dream job. But as fate turned, I never got to do so.
It was too difficult to get a job in 2009 due to unprecedented changes in the economy.
I was already a college graduate but I was jobless (for a time). I did not sit and wait for the situation to improve, so I grabbed a work opportunity. Fortunately, I was hired as an admin staff at Robinsons Supermarket Ermita.
Others thought that I was underemployed but I didn't mind it at all because I was happy and content to have job that offered tenure.
That time, I had everything that I wanted— a stable job, a loving family and a loyal boyfriend. Blessings rained down on me. They say, when it rains, it pours.
In May 2012, I found out that I was pregnant. In August that same year, my boyfriend and I got married and sealed our relationship. Life was all too sweet. I was at the 6th month of my pregnancy and we were excited. But that month, I had dengue and my baby was at risk.
I was rushed to the Chinese General Hospital (Charity Department) and had a premature delivery. It was a scary experience because I was too frightened of losing my little girl, but things worked out well for us. Our baby was safe and healthy.
After giving birth, both of us realized how much we wanted to be hands-on in raising our kid. I resigned from my work at Robinsons, immediately after my maternity leave expired.
We had a smooth-sailing life then on. But it wasn't for long because my mother was diagnosed with stage 5 Chronic Kidney Disease (CKD). And as the eldest in the family, I had to step up and be in her care. I took care of my mom and assisted in her dialysis sessions while taking care of my toddler. It meant leaving my husband to his direct family.
My husband understood and accepted our temporary set up but I didn't know he was already ill then. In February 2015, while I was attending to my mother's medication, I was told that my mother-in-law rushed my husband to the hospital because of an unmanageable fever, she suspected that he had dengue. When they reached the hospital, the doctors got frantic because my husband shouldn't had been exposed at the hospital given his condition. Since he was young, he was already diagnosed with nephrotic syndrome and had to take maintenance medicine ever since.
His immune system was already compromised because he had a pre-existing condition and being admitted to the hospital meant that he would be exposed to various diseases. And they were right because his health deteriorated as the days passed. What's more heartbreaking was the fact that I was not with him the whole time because I was with my mother then. It felt like I neglected him, guilt consumed me for a long time.
When I finally had the chance to see him, I never left his side. I showed him that I was right there with him through thick and thin. I needed to show him that I was strong and was willing to take whatever life gives no matter how bitter it may be.
BEVERLYN ALANTEJO
Team 33