I was born at around 8 in the morning on the 30th of June, during the Year of the Tiger, 1986. I am the third out of the four children in the family. I have an older brother, an older sister, and a younger sister, which means I am blessed to have experienced certain roles in the family.
I was an active kid growing up. I loved the outdoors. I loved playing all sorts of games on the streets or wherever I find a place to explore and conquer with my cousins and friends. I loved my adventures even if I would get scratches here and there. I guess it had served its purpose because it prepared me to real-life bruises in the decades that followed.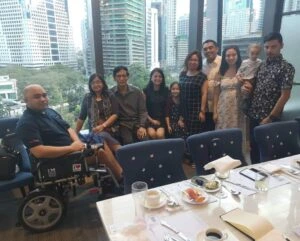 Well, my adventures continued but this time they took place in the jungle of the corporate world. After finishing my degree in AB Humanities and Industrial Economics at the University of Asia & The Pacific, I landed a job as a Financial Advisor at a certain insurance company but it did not last long because after 10 months, I called it quits. I got bored with the monotony and got discouraged with the evasive promotion.
Months later, I received an invitation for an interview in a real estate company in Quezon City. I was immediately accepted and started my training as a property consultant. I was doing well because I made my first sale after just a few months. I exerted effort in the weeks that followed and targeted at least 1 sale per week. Though it was tiring and challenging, but it was worth it because of the generous commissions that I receive after selling a unit.
Because of my job exposure, my interaction skills improved. I learned how to talk and deal with different types of people in all walks of life. I stayed with the real estate consultancy job but eventually changed careers after 2 years. The work stress was unhealthy and it slowly consumed me.
At that time, my clients continued to keep in touch with me. They asked for my help especially in referring them to good interior designers and contractors. I referred them to my younger sister, who is an Interior Design board topnotcher. I also connected my clients to quality contractors and one of my clients liked and was impressed with all my referrals. So unexpectedly, she designated me to be her authorized representative for the interior fitout of her other condominium units in BGC, Taguig. I took charge of the renovation from Day 1 and until it was finished.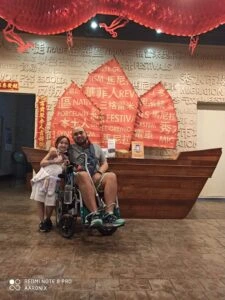 That experience became my lightbulb eureka moment because I was able to form the idea of finding construction workers and creating my own construction company, Sala Concepts Company. I onboarded my sister and asked her to be my part time consultant and co-managing partner. Our parents supported us and were willing enough to loan us some money to help start our own company. Eventually, it flourished and I was able to finance my unchanged, unhealthy lifestyle in the following years. I guess I enjoyed my singlehood too much that I went out a lot, met with different people from different places, attended parties here and there and consumed alcohol more frequent than usual.
Little did I know that I have this congenital malformation called Horseshoe Kidney. It means that my kidneys are fused together and looks like a horseshoe. My drinking worsened my kidneys. I developed asthma-like symptoms and was prescribed by my pulmonologist to take Salbutamol puff to relieve my asthma, but again, it was not just asthma because it was already a symptom of an enlarged heart. I have developed Acute Cardiomegaly on the left ventricle of my heart. My lifestyle, combined with my congenital malformation resulted to this.
After a month of using Salbutamol inhaler, I experienced difficulty of breathing because I did not follow the instruction that I should gargle right after using it. I was rushed to the Emergency Room of The Medical City where my vitals were checked. The resident doctor did not have any idea why my blood pressure was shooting up so I was recommended to be admitted for further testing to find out the cause of my high blood pressure.
This was the only time when we discovered about my congenital malformation. Blood tests have shown poor and reduced kidney function so the doctors decided to do more scans to further see what's going on in my body, specifically with my kidneys. I underwent Renal Scans for four times to validate the nephrologist's findings about my kidneys and I was admitted in the hospital for two weeks. I was discharged after my blood pressure was stabilized and my condition got better.
I went on with my normal life and continued with where I left off. Days, weeks, months and years have passed by and I was feeling okay. But in the fateful morning of July 26, 2017, my normal life didn't seem normal. My sister noticed that I was drooling at the left side of my mouth involuntarily. A few moments later, my left limbs numbed and felt weak. I immediately stopped what I was doing and called my older sister who is a doctor. She looked at me in fear and worry and said, "UY stroke yan! Naiistroke ka na! Sumakay ka na sa kotse, bilis at pumunta na tayo ng TMC (The Medical City)!"
She rushed me to the hospital but I already lost my consciousness when we arrived. Four people yanked me out of my sister's car and immediately brought me to have MRI and CT scans. The Brain Attack Team of the hospital had to do an emergency brain surgery (a craniectomy) at the right side of my head to save my life. The surgery was successful but I had to stay in the hospital for almost a month to fully recover.
I was not the only one hurt, our pockets did too because our hospital bill was more than a million pesos. Friends and family members raised funds to help us pay the bill, we also sought aid from government agencies.
After a month of being in the hospital, I was already cleared that I could go home. But going home, this time, would be different. It would be the start of my life as a PWD.
I have hemiplegia, one side of my body is paralyzed. There were nights that I would get to think what went wrong, but most nights I am grateful for the second chance at life I was given with.
Honestly, I am not sure if I could fully recover or reverse my condition and get back to the normal life I was used to, but I keep my hopes up. I am always encouraged with the miracle stories online of other stroke survivors who were able to function normally again.
Up until today I still couldn't move my left arm and hand yet. Although I have been doing Physical Therapy for the past 2 years, I still have mobility problems. But the one good news to share is that my left foot drop has improved though not fully cured yet. But even then, it's something to be grateful for.
I'm very lucky that in all the challenges and changes that I had to go through, I have the strongest support system in the world— my family. They made my recovery easier and more bearable. They helped me through and lifted me up when I get discouraged and when my depression kicks in. They helped me embrace my new normal.
AARON PAUL CONCEPCION
Team 30