I was willing to do whatever it takes.

All that was in my head was for my son's treatments, nothing else mattered.
I am one of the blessed women who got to wed the love of my life and create a wonderful family that I deeply love.
I met my husband when we were in college at the University of Cebu, we were college sweethearts then. He was my young love I have the wonderful chance to grow old with.
Just a few years after graduation, we both decided to finally get settled and start a family of our own since both of us were already employed, and we already had our family's blessings.
There were no second thoughts or detours. We were ready to start a life together, and we did. A year passed after our wedding but I did not get pregnant. Another year came, still, my womb was empty. I was worried but hopeful. Our third anniversary arrived and I was still childless. Apprehensions started to bother me.
My husband and I prayed harder in the months that followed. We dropped coins in wishing wells and prayed to our patron saints. We even went to the Birhen Sa Simala Statue in Sibonga, Cebu and prayed that I'd be granted a child to cherish in this lifetime.
Not long after, our prayers were answered. I finally saw two red lines in my pregnancy test. I couldn't explain the joy brought by those tiny lines. My heart's desire to become a mother was finally happening.
I gave birth to a handsome little boy, Lev. He brought us so much joy because he finally completed our tiny family. We enjoy every moment we spend with him. We made sure that we were both beside him in all his milestones— his first smile, first steps, and first words.
Years passed unnoticed, our little boy already turned five, and I gave birth to two beautiful girls in between those years.
I enrolled Lev in a private pre-school near our place, it marked the start of his school journey. He was excited and was over the clouds.
Our boy is a happy and adventurous kid and loves to be around people. He was very active in class and would simply participate in all activities.
But one day his teacher noticed the changes in his behavior. He became unusually quiet and aloof. He was not the active happy boy in class anymore. His teacher suggested that we'd observe him even closer. Maybe he had discomforts or pain that he was just keeping to himself. It would be best if we would see the doctor.
We went to the doctor and had his full medical work up. We had the labs and other recommended tests but when all the tests were done, we were told of the saddest news that trembled us. My son, my Lev, has leukemia.
No words could equate the pain and frustration I felt after I heard the doctor's diagnosis. I soaked in tears and had sleepless nights clueless how to get through each day knowing that my innocent son was in agony. Each waking day, I saw my son bravely fighting for his life, I knew I must fight harder.
When Lev was diagnosed with leukemia in the early months of 2020, my father-in-law was also admitted in the hospital for a critical illness. My husband being the only child had to take care of his father while I took care of Lev.
My father-in-law died weeks later while we were at the middle of fighting for Lev's survival.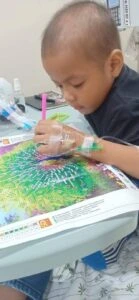 As the days passed, things got harder for us. Though both my husband and I had means but our finances were already depleted. We had to submit to Lev's biweekly and triweekly chemotherapy as part of his intensive treatment for nine months. Each session would cost us 8,000-15,000 Php, excluding his other medications.
My husband and I squeezed all our resources to sustain his medications and treatments, but they were not enough. We even had to pullout Lev from the private school and transferred him in the public system because we could not afford the tuition fees anymore.
On top of that, the pandemic was at its peak and my husband lost his job. Another challenge that burdened us was the travelling with heightened restrictions. It made our weekly commute for medications even harder and more expensive, but we endured.
We tried all means possible just to get by with our daily needs and to pay for Lev's treatments. I sold things, started a fundraising, and asked friends and family for support.
I was willing to do whatever it takes. All that was in my head was for my son's treatments, nothing else mattered. As a parent, I would do anything and everything for my children.
Difficult days began to unload as I started to look at his daily progress.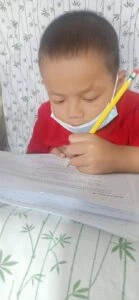 My prayers started to unfold, and help from places I never expected came in. I was introduced to Khythe and other organizations. I was later introduced to Virtualahan and was blessed that Lev was drafted to be one of the scholars of their [email protected] program.
It was an unexpected blessing because I have always wanted Lev to be in a private school, and now he's finally back in the private system because of the Virtualahan program.
My son just turned eight this year. He's still on medication and is continuously fighting. Our journey is never easy, any parent who is in my shoes would know the gravity of our daily struggles. But even so, the Lord is good because Lev's daily life is a reminder of God's daily miracles unfolding in our very eyes.
Merian Fajardo
Lev's Mom